What is Verseo CSS?
Lower the costs

of your Google Ads campaigns

up to 20%!
Do you agree that the possibility of saving up to several thousand zlotys per quarter sounds promising?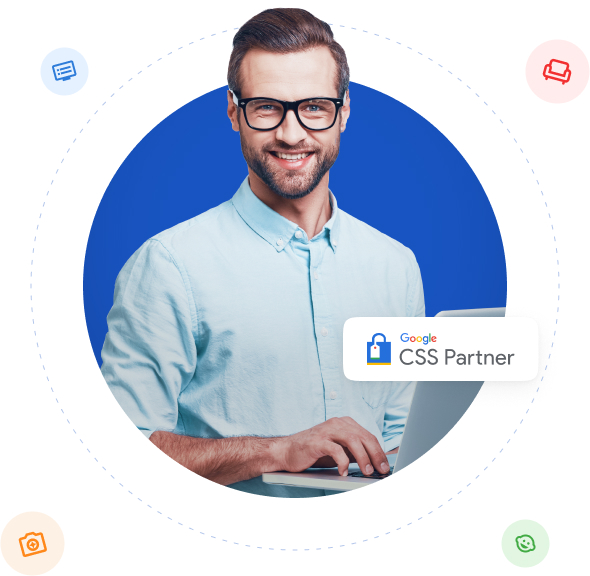 What is
Google CSS?
(Comparison Shopping Services)
CSS is nothing but a price comparison service. This name can be attributed to any website that collects products from various brands. However, there is no sale in the comparator. It only acts as an intermediary directing traffic to the manufacturer's offer. In the past, Google had exclusivity on this service. The European Commission decision has made it possible for other entities to take advantage of the opportunities offered by Google Shopping.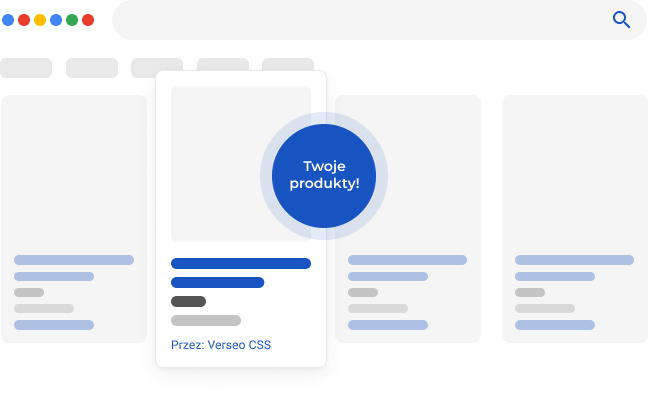 How does
Google CSS work?
(Comparison Shopping Services)
To begin with, the customer is required to send a list of products that he has in his online store. For this purpose, it uses a panel posted on the Verseocss.com website. Selected items appear on Google Shopping on general search result pages. Verseo CSS is responsible for displaying products on behalf of individual sellers. In addition, it has the ability to manage rates. It is worth noting that our CSS is in no way inferior to the services provided by Google. The seller may use several comparators at the same time (Verseo, Google Purchase or the system of another service provider) or entrust the product list to one company.

As part of the price comparison service, a separate account is opened in the Google Merchant Center account for each merchant who is represented on Google Shopping by Verseo.

This solution opens the possibility of sending products and then creating a product campaign. Verseo is participating in the Comparison Shopping Partner program initiated by Google. The initiative maintains a competitive advertising environment and provides benefits to both service providers and retailers.
Verseo as maintainer of
Google CSS
(Comparison Shopping Services)
Verseo is one of Google's key partners in Europe. We have just supplemented our offer with the Google CSS system, intended for online stores. Thanks to this service, you will reduce the costs of acquiring traffic by up to 20%. You won't pay a penny for connecting your store to our comparison engine. If necessary, you can get our expert support to make sure your campaign is running like on a Swiss watch. Our team consists of the best specialists in Poland. The testimony of their skills are dozens of certificates from Google. Cooperation with Verseo is a guarantee of effectiveness.
Why should you join
Verseo CSS?
Quick setup
The setup process has been greatly simplified. Thanks to this, we can very efficiently prepare the service for operation.
Save up to 20%
Cooperation with Verseo allows you to participate in the auction without the margin imposed by Google. This solution allows you to save up to 20% of the financial outlay on the campaign.
International market
The service is available on all markets within the European Union. As a result, you can conduct effective activities in the international arena.
Integration with Google Ads
All elements of the Google ecosystem function in harmony with each other. The price comparison service will be tightly integrated with Google Ads and Google Merchant Center.
Dedicated guardian
During the cooperation, we are at your disposal. We will appoint a certified specialist for constant care over the course of the campaign.
Individual configuration of products
You get the option to sort all products according to various attributes. This approach significantly simplifies the campaign optimization process. *
Refreshing the product display
You can count on the cyclical refreshment of the product displays. In this way, you will stimulate the interest of potential customers and avoid stagnation. *
* This variant requires an additional fee.
How is
implementation
Google CSS?
We carry out the service implementation process
in four easy steps
Connection

We connect your Merchant Center account with Verseo CSS.

Configuration

We download your products from the product feed. Then we publish the entire assortment in the Verseo CSS Comparer.

Tests

We test the efficiency of the service.

Integration

We integrate other campaigns. Thanks to this, your ads will appear in the Google search engine with the annotation "via Verseo CSS".
Did not find the information you wanted?
Contact us
Write to us