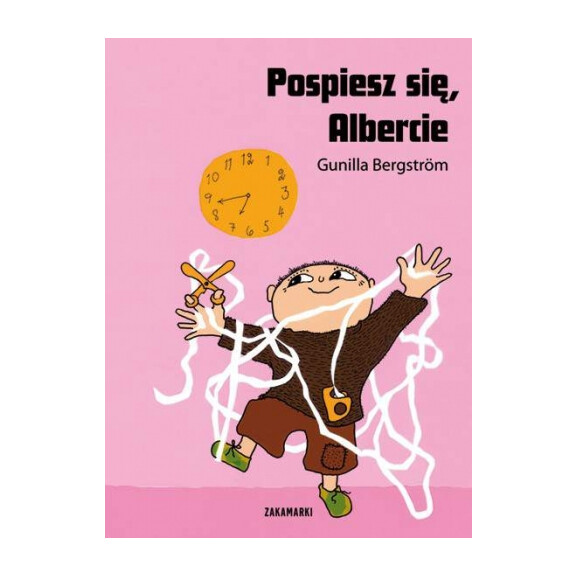 Media
Zakamarki - Pośpiesz Się, Albercie
Brand Wydawnictwo Zakamarki
Store moncziczi.pl
Specification
tekst: Gunilla Bergströmilustracje: Gunilla Bergström
Albert szykuje się do przedszkola.– Jesteś gotowy? – woła tata z kuchni.– Jeszcze tylko sweter – mówi Albert i bierze sweter z krzesła.O, tu leży bluzka Lisy! Lisa to lalka Alberta. Ona też się przecież musi ubrać!– Albercie, idziesz? – woła znowu tata.– Tak, tylko jeszcze…Albert Albertson mieszka z bardzo miłym tatą i kotem Puzlem. Jak każdy kilkulatek czasem ma problemy z zasypianiem, potrafi rano strasznie się grzebać przed wyjściem do przedszkola i jest niezwykle pomysłowy, zwłaszcza jeśli bardzo czegoś chce. Dzieci rozpoznają w Albercie swoje zachowania i emocje – radość zabawy, ciekawość świata, nieograniczoną fantazję, ale też złość, zazdrość czy strach.Książki o Albercie, tłumaczone na kilkadziesiąt języków, rozeszły się dotąd w niemal ośmiomilionowym nakładzie w Szwecji i poza jej granicami, a na ich kanwie powstały liczne spektakle teatralne i filmy animowane. W Szwecji to już kultowa seria, licząca ponad trzydzieści tytułów. Jej autorka i ilustratorka, Gunilla Bergström, otrzymała za swoją twórczość wiele nagród i wyróżnień, włącznie z wyborem jej książki na książkę roku 1997 przez szwedzkie Jury Dziecięce. W 2012 roku mija 40 lat od ukazania się pierwszej historii o Albercie Albertsonie, który w Szwecji nazywa się Alfons Åberg. Jubileusz jest tam hucznie obchodzony, a sprawczyni całego zamieszania, Gunilla Bergström, uhonorowana została przez szwedzki rząd medalem Illis quorum za "nowatorską twórczość literacką i ilustratorską znakomicie ukazującą świat z dziecięcej perspektywy". Nie mamy wątpliwości, że zaprzyjaźnicie się z Albertem i jego tatą od pierwszego czytania!
Other products from moncziczi.pl
Add your opinion
Your opinion has been successfully added!