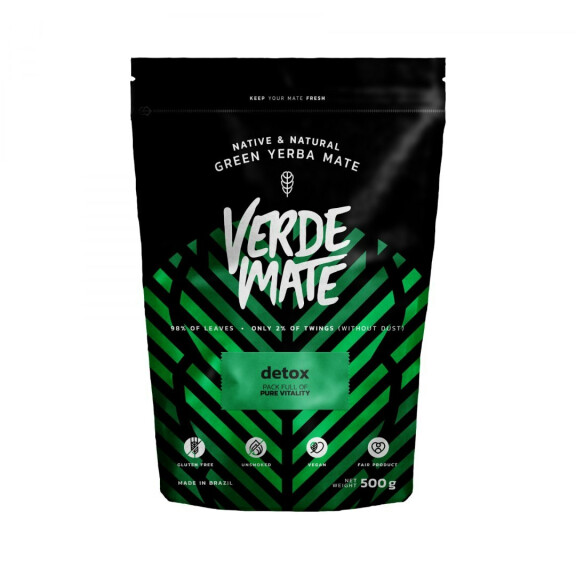 Beverages
Yerba Mate Verde Mate Green Detox 0,5kg
Brand VERDE MATE
Store ekoo.pl
Specification
Opis i działanie:
Verde Mate Detox to yerba pochodząca z dzikiej uprawy zlokalizowanej w tropikalnym brazylijskim lesie. Bardzo mocno zielony susz jest praktycznie pozbawiony pyłu. Subtelny roślinny, ale intensywny smak kryje w sobie wielką moc pobudzenia. Verde Mate Detox jak sama nazwa wskazuje to mieszanka wspomagająca oczyszczanie organizmu z toksyn. Prócz zielonej, świetnie pobudzającej mate zawiera także ostropest, czystek, herbatę gunpowder, pokrzywę, owoc dzikiej róży, szałwię i miętę.
Zawartość opakowania:
Yerba mate, czystek, ostropest, herbata gunpowder, pokrzywa, owoc dzikiej róży, szałwia, mięta
Smak i aromat:
Mocno roślinny i pobudzający napar pozbawiony dymnych aromatów. Słodkawy posmak charakterystyczny dla zielonego suszu, wzbogacone o wyważony ziołowy aromat. Ich niezastąpionymi kompanami okazał się bogaty ziołowy bukiet.
Link do strony marki: http://www.verdemategreen.com/
Na terenie zakładu konfekcjonowane są produkty zawierające: orzechy. Dokładamy wszelkich starań aby pakowanie alergenów odbywało się w najdłuższym możliwym odstępie czasu, jednak nie możemy w 100% zagwarantować, że w pakowanych produktach nie znajdą się śladowe ilości alergenów.
Other products from ekoo.pl
Add your opinion
Your opinion has been successfully added!