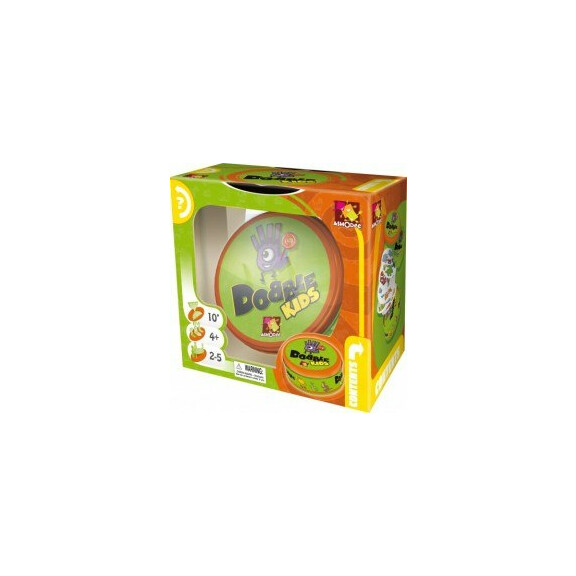 Toys & Games
REBEL Gra Dobble Kids
Brand Rebel
Store misiukrzysiu.pl
Specification
Dobble w wersji dla najmłodszych!
Ten, ten, no... wieloryb!
"Dobble Kids" to wspaniała gra dla dzieci, dostosowana do tego, by najmłodsi grali samodzielnie, ale też na tyle elastyczna w swych zasadach, żeby dorośli mogli bez problemów dołączyć się do zabawy i mieć trudności z wygraniem z dziećmi!
Podstawowa zasada gry to znalezienie jak najszybciej symbolu, który łączy dwie karty. Symbol zawsze jest tylko jeden, o czym należy pamiętać i w to nie wątpić, bo nie raz się zdarza, że nijak nie można go zauważyć.
Ale na czym to polega?
Przed każdym dzieckiem wyłóżcie cztery odkryte karty, a przed każdym dorosłym sześć odkrytych kart. Następnie połóżcie jedną odkrytą kartę pośrodku stołu. Pozostałe karty odłóżcie do pudełka. Możecie zmienić liczbę kart leżących przed danym dzieckiem, biorąc pod uwagę jego wiek i doświadczenie w grze.
Wszyscy gracze grają równocześnie. Na dany znak każdy stara się jak najszybciej znaleźć zwierzątko wspólne dla jednej ze swoich kart i karty ze środka stołu. Po odnalezieniu gracz musi głośno wypowiedzieć jego nazwę. Pierwszy, któremu się to uda, odwraca swoją kartę. Gra toczy się dalej.
Wygrywa ten, kto odwróci (zakryje) wszystkie swoje karty.
Dla utrudnienia zabawy, zwierzęta na kartach bywają obrócone i miewają inne rozmiary. Same karty są okrągłe i pełne kolorowych ilustracji, a każda z nich jest unikalna i łączy się z innymi kartami jednym i tylko jednym zwierzęciem.
W instrukcji znajdziecie pięć różnych minigier, ta opisana powyżej jest najprostsza i najpopularniejsza.
Czym "Dobble Kids" różni się od "Dobble"?
Wszystkie symbole to zwierzęta, bardzo charakterystycznie narysowane, co pozwala dzieciom nie tylko szybko odnaleźć w myślach odpowiednie słowo, by nazwać zwierzę, ale też utrwala im nazewnictwo.
Dlaczego musisz mieć tę grę?
- Żadna inna gra nie rozrusza towarzystwa tak jak "Dobble". Żadna nie jest tak prosta i nie daje tyle zabawy w ciągu tych kilku minut! Rozgrywka jest bardzo szybka, emocjonująca, przy stole dużo się dzieje, każdy krzyczy starając się jakoś nazwać pasujące obrazki i być przy tym szybszym od innych graczy.
- Tylko "Dobble" tłumaczy się w minutę!
- Żadna inna gra nie jest tak mała, że można wziąć ją wszędzie i nie ma tak trwałego, metalowego pudełka, które wytrzyma wiele.
- Tylko "Dobble" ma takie wygodne i praktyczne karty. Okrągłe, mocne kartoniki świetnie się sprawdzają w czasie zabawy.
- Świetnie sprawdza się jako przerywnik pomiędzy poważniejszymi tytułami, a do tego porządnie rozgrzewa i solidnie poprawia humor. Polecana dla osób w każdym wieku.
Other products from misiukrzysiu.pl
Add your opinion
Your opinion has been successfully added!