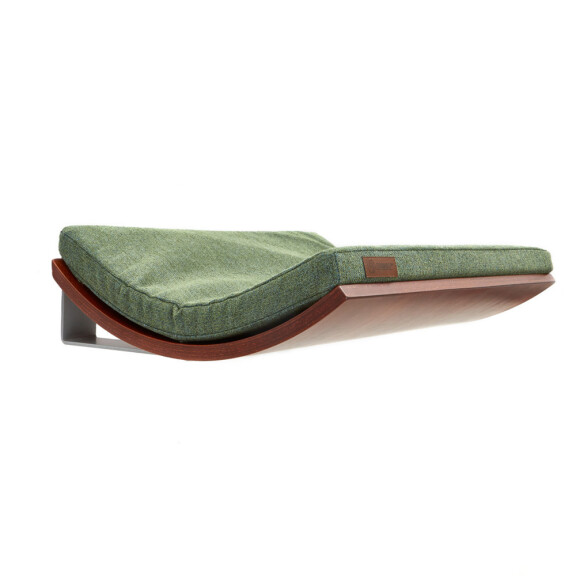 Pet Supplies
Półka dla kota CHILL orzech SELSEY
Brand SELSEY
Store channable.com
Specification
Twój koci przyjaciel uwielbia obserwować swoje otoczenia? Wybierz półkę CHILL marki Cosy And Dozy® i pozwól mu spoglądać na wszystko z góry! Koty to stworzenia, które uwielbiają kontrolować swoje otoczenie. Warto więc stworzyć im wygodny punkt obserwacyjny, dzięki któremu będą mogły w wygodnych i w pełni bezpiecznych warunkach śledzić wydarzenia mające miejsce w Twoim domu. Stylowa półka CHILL doskonale sprawdzi się w tej roli! Produkt wyposażony został bowiem w delikatnie wygiętą powierzchnię, co nie tylko zapewniło jej elegancki wygląd, ale także chroni Twojego przyjaciela przed wypadnięciem w czasie drzemki. Całość dopełnia należąca do kompletu mięciutka poduszka o pokrowcu z wytrzymałej i bezpiecznej dla zwierząt tkaniny. Element ten oferuje kociakowi niezapomnianą miękkość, sprawiając w ten sposób, że czas spędzony na półce przebiegnie mu niezwykle przyjemnie. CHILL nadaje się do zawieszenia w każdym miejscu na ścianie – niezawodny system montażu zapewnia meblowi niezbędną stabilność oraz eliminuje ryzyko chwiania się. Szczegóły produktu: wariant o ciekawym kolorze orzecha, liczne wybarwienia poduszki umożliwiają bezproblemowe dopasowanie CHILL do aranżacji, poduszka posiada sześć nap ze stali nierdzewnej, za pomocą których mocuje się ją do powierzchni półki – dzięki temu ruchy śpiącego lub bawiącego się mruczka nie spowodują przesunięcia elementu, poduszka posiada pokrowiec wykonani z wytrzymałej tkaniny, która jest odporna na rozdarcia i bezpieczna dla kota, pokrowiec można zdjąć i wyprać, półka zbudowana została z najwyższej jakości sklejki bukowej, czyli materiału trwałego, odpornego na uszkodzenia i nieszkodzącego zwierzętom, metalowe wsporniki zapewniają półce bezpieczne osadzenie w ścianie, jednocześnie nie rzucając się w oczy, maksymalne dopuszczalne obciążenie: do 20 kg, grubość poduszki: 3 cm, grubość półki: 1,2 cm, zestaw składa się z: półki, poduszki, wsporników, dwóch uniwersalnych kołków Fischer oraz instrukcja montażu, półka CHILL zaprojektowana i wykonana została w Polsce.
Other products from channable.com
Add your opinion
Your opinion has been successfully added!