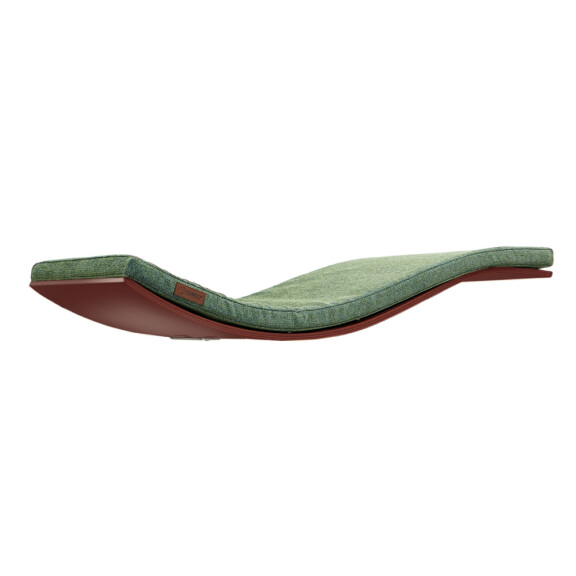 Pet Supplies
Półka dla kota CHILL DeLUXE orzech SELSEY
Brand SELSEY
Store channable.com
Specification
Twój kot zasługuje na to, co najlepsze? To oczywiste! Podaruj mu zatem półkę z kolekcji CHILL DeLUXE marki Cosy And Dozy® i patrz, jak z radością się na niej wyleguje! Koty kochają wspinaczkę i obserwowanie swojego otoczenia z góry, dlatego każdy miłośnik tych zwierząt wie, jak ważnym jest zapewnienie im miejsca do realizowania tych potrzeb. Piękna półka CHILL DeLUXE okaże się zatem strzałem w dziesiątkę, który z łatwością skradnie serce każdego kociaka. Ten piękny mebel wiesza się bowiem na ścianie, co nie tylko czyni z niej atrakcyjny wizualnie dodatek, ale także skutecznie przykuwa zainteresowanie mruczka i zachęca go do wspinania się. Łagodnie wygięta powierzchnia mebla dopasowuje się do kształtu ciała zwierzaka, a przyjemna w dotyku poduszka delikatnie otula jego ciało, oferując mu bezpieczne i komfortowe warunki do codziennego leniuchowania. Szczegóły produktu: półka pomoże zniwelować stres kota, ponieważ okaże się miejscem, w którym może odpocząć od zgiełku codziennego życia, np. od rozbrykanych dzieci, na półce swobodnie może się wylegiwać jeden duży kot, np. Maine Coon, lub kilka mniejszych zwierzaków, łagodna barwa klonu, wiele modnych kolorów poduszek do wyboru pozwoli uczynić z mebla atrakcyjny dodatek do Twojego wnętrza, trzynaście mocnych nap umożliwia przymocowanie poduszki do powierzchni półki, chroniąc ją w ten sposób przed przesuwaniem i spadaniem, napy z nierdzewnej stali są odporne na uszkodzenia, gięta sklejka bukowa jest nieszkodliwa dla kota i zachwyca trwałością oraz świetnym wyglądem, poduszkę zabezpiecza pokrowiec z wytrzymałej tkaniny, który można bez problemów ściągnąć i wyprać, dwa wsporniki zapewniają bezpieczne osadzenie, maksymalny udźwig: do 25 kg, grubość poduszki: 3 cm, grubość półki: 1,2 cm, w skład zestawu wchodzą: półka, poduszka, wsporniki, dwa kołki Fischer oraz instrukcja montażu, półka CHILL DeLUXE zaprojektowana i wykonana została w Polsce.
Other products from channable.com
Add your opinion
Your opinion has been successfully added!