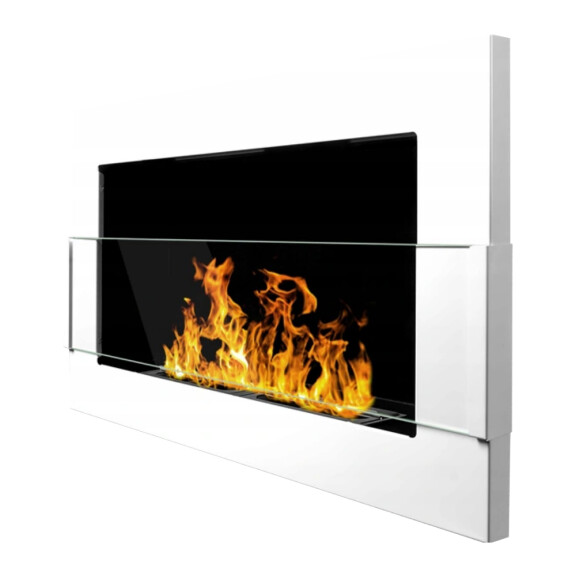 Fireplaces
Biokominek Maltern 65x40 cm z szybą biały połysk z certyfikatem TÜV SELSEY
Brand SELSEY
Store channable.com
Specification
Marzy Ci się leniwe popołudnie spędzone przy wesoło podskakującym ogniu? Kolekcja biokominków Maltern spełni Twoje oczekiwania! Płonący wesoło kominek to miejsce, bez którego trudno wyobrazić sobie przytulny domek. Na szczęście biokominek Maltern pozwoli Ci z łatwością osiągnąć zamierzony efekt nawet w niewielkim mieszkaniu w bloku! Wszystko to dzięki specjalnemu biopaliwu, które spalone nie powoduje dymu, sadzy czy popiołu, a jedynie wytwarza trochę pary i dwutlenku węgla. Dzięki temu konstrukcja jest w pełni bezpieczna i nie obciąża naszego środowiska, dlatego bez obaw możesz ją zamontować w salonie, sypialni lub na balkonie. Maltern dodatkowo może pochwalić się szykowną, białą ramą wykonaną ze stali. Dzięki niej znakomicie komponuje się z nowoczesnymi i modernistycznymi wnętrzami. Szczegóły produktu: korpus ze stali nierdzewnej jest odporny na uszkodzenia mechaniczne, dla zwiększenia bezpieczeństwa biokominek posiada specjalną szybę, która zapobiega wydostawaniu się płomienia i utrudnia poparzenie poprzez np. włożenie ręki, przyznany przez Niemiecki Instytut Rheinland Certyfikat Bezpieczeństwa TUV potwierdza wysoką jakość oraz bezpieczeństwo, zasilany na biopaliwo, które nie wytwarza sadzy, dymu czy popiołu, a jego produktami spalania są para wodna oraz dwutlenek węgla, które wydzielają się w ilościach śladowych i nie szkodzą otoczeniu, dzięki zastosowaniu biopaliwa nie są konieczne przewody kominowe, zalecamy stosowanie certyfikowanego biopaliwa, biokominek należy rozpalać w dobrze wentylowanym pomieszczeniu, rodzaj: wiszący (montowany na ścianie), kolor: biały połysk, montaż: wymaga samodzielnego montażu.
Other products from channable.com
Add your opinion
Your opinion has been successfully added!